Written by Wong Siew Wei and Abby Tan, Nutritionists
Did you know that it is possible for your body to accumulate more toxins than your body's natural detoxification system – liver – can get rid of? Chemicals from this long list of health hazards can build up in your system over time and can cause disease.
Unfiltered water adds more toxins (including chemicals like pesticides and detergents, and water based microbes and bacteria) to our bodies and adds even more of a burden on our detoxification system. To counter this, our body needs a very specific set of nutrients to be able to perform its job of detoxification to perfection. Glutathione is the body's own master antioxidant. It is the most critical and integral part of your detoxification system.
SEE ALSO: What's So Amazing About Glutathione?
How Does Gluthathione Help With Detoxification?
The LifeQode Detox
EDG3 is a flagship LifeQode product from QNET, available in your eStore. It is a powerful nutritional powdered beverage with a revolutionary, US patented amino acid blend to increase your Glutathione (GSH) levels very, very effectively. To hear about the benefits of taking EDG3, read these testimonials from your fellow Independent Representatives – Why We Love EDG3 and You Should Too!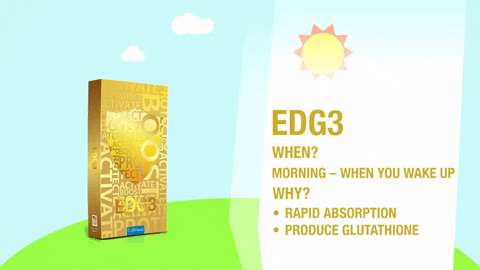 SEE ALSO: The Importance of Cellular Hydration And Nutrition
Related posts
Like Us
✨ QNET VIPs look lit with happiness as they strike a winning pose at V-UAE in Dubai, 2016... Who's looking forward to V-Convention 2021 in October? 🙋🏽‍♂️🙋🏾‍♀️
#qnetmemories
#QNET
#ThrowbackThursday
#wonderfulmemories
#nostalgia
#tbt
#throwback
...

See More

See Less
🎉#QNET23 🎉 Be a part of QNET 23rd Anniversary Celebration 🎬
We need you to organise the best QNET 23rd Anniversary Celebration Ever!
As a key component of QNET's DNA, you are invited to participate and join the preparation of QNET's 23rd Anniversary Celebration.
Help us spread the energy and the true essence of QNET.
It's simple and easy:
1. Think of one word to describe the uniqueness of QNET.
2. Post a video of yourself saying "QNET IS _ "
For example: "QNET IS FAMILY"
3. Share your video on Facebook/Instagram with hashtag #QNET23
*Your videos must be posted before Sunday, 8th Aug 2021 – 23:59 HKST
**The best and most amusing videos will be shared and featured in the QNET 23rd Anniversary Celebration Film
***Please make sure that you have the high definition video in landscape format, with 1080p resolution
**T&C applies
...

See More

See Less
Yes, you can! Chi Pendant 4 is known to strengthen your biofield. 😁
Click here to find out more about Amezcua Chi Pendant's amazing benefits: www.qbuzz.qnet.net/2021/05/31/introducing-the-brand-new-amezcua-chi-pendant-4/
Follow Amezcua Worldwide for more!
#Amezcua
#chipendant
#QNET
#wellnesslifestyle
#chipendant4
...

See More

See Less